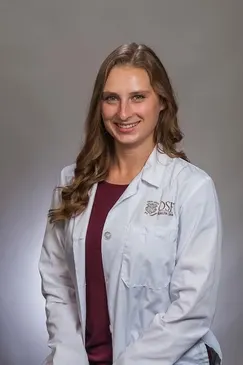 Dr Krotiak received her undergraduate degree from State University of New York at Binghampton in Biology and Health and Wellness. She attended William M. Scholl College of Podiatric Medicine, where she received her Doctorate in Podiatric Medicine. She completed a 3-year surgical residency from OSF St Anthony Medical Center in Rockford Illinois. She is extensively trained in surgical and conservative treatment of the foot and ankle in an orthopedic surgery center, hospital, wound care and clinical settings. Able to perform surgical and conservative treatment of foot and ankle trauma, bunions, hammertoes, arthritic conditions, tendon pathology, ankle arthroscopy, midfoot and hind-foot fusions, total ankle replacements, external fixation, intramedullary rodding, heel pain, diabetic wounds, neuroma pain, pes planus and cavus pathology, as well as ankle instability.
Dr. Krotiak's road to podiatry and beyond:
Dr. Krotiak, a Buffalo, NY native, is a successful podiatrist known for her contributions in the field. She met her husband while in podiatry school, and he now runs a small business in the Chicago suburbs. Together, they cherish quality family time with their young daughter. Dr. Krotiak's life is a balance of professional achievement and the joy of parenthood.